TORONTO, November 21, 2017 – Pie lovers- sweet and savoury- are coming together, thanks to a partnership between Chudleigh's Farm and Pizza Pizza. The popular third-generation farm has partnered with Canada's leading pizza chain to offer consumers their signature Apple Crumble Pie, just in time for the holidays. This scratch-made dessert, made with freshly peeled, Northern Spy apples, flavoured with cinnamon and topped with a sweet brown sugar and oat crumble, will give your grandmother's a run for its money.
Chudleigh's Apple Crumble Pie joins a variety of sweet treats featured on Pizza Pizza's menu including its famed Funnel Cake Stix, Two-Bite Brownies and new 50th Anniversary 6-Inch Chocolate.
"Quality ingredients has been one of our core values since 1967 and Chudleigh's is renowned for the quality of its farm operations, products and service," says Pat Finelli, Chief Marketing Officer for Pizza Pizza. "Like Pizza Pizza, Chudleigh's farm started with one family's vision and passion and has now turned into a Canadian success story. We encourage everyone to visit the family farm in Halton Hills, Ontario but if that's not possible, we're happy to offer their products in all of our traditional locations in Ontario, Quebec, Manitoba, Saskatchewan and Nova Scotia."
Chudleigh's Farm is also celebrating their 50th anniversary this year- they first opened their Farm to the public in 1967, the same year Pizza Pizza officially opened its doors.
Customers can get the signature Chudleigh's Apple Crumble Pie with a pizza combo, or on its own for $7.99. Please note that the pie requires heating upon receipt.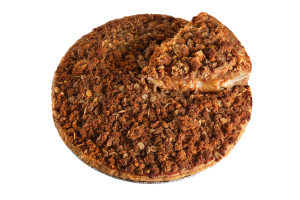 About Pizza Pizza Limited
For 50 years, Pizza Pizza Limited has been guided by a vision to provide the "best food, made especially for you" with a focus on quality ingredients, customer service, continuous innovation and community involvement. With more than 750 locations across Canada, the company is Canada's pizza pioneer and a quick-service restaurant leader, operating two banners – Pizza Pizza and Pizza 73 – that deliver quality food choices, diverse menus and exciting promotions for all tastes, lifestyles and budgets. Visit phx2uat.pizzapizza.ca and www.pizza73.com for more information.
– 30 –
Media information:
Jessica Roumeliotis
Torchia Communications
514-288-8290 ext. 205
jessica@torchiacom.com